Dragon Blood: Cobalt Dragons by Amelia Jade for .99 on 8-2-2018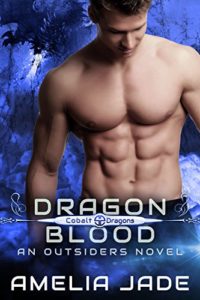 I'm not seeing a lot of paranormal books that catch my eye lately. Have all of us paranormal romance writers disappeared into the ether or have the lists just been taken over by RH? I'm not sure, but I found this little gem and thought I'd share it…get it here.
When word reaches Kaitlyn Harver that her boss wants her in his office now, she starts to panic. How could he know? She hasn't told a soul. All she wants is to do her job and climb the corporate chain. Leapfrogging the other senior directors by accompanying her boss on a private jet to another continent isn't how she imagined doing it. Especially not after how things ended the last time they worked together…
When Aric finds out he must travel, there's only one person he wants with him. Fun-loving and easy-on-the-eyes Kaitlyn. Not because of what happened before, but because he doesn't want a dry, stuffy suit-wearer with him. His plans fall apart the instant they're shut in the plane together and he realizes something about her has changed. She's now more important to him than ever before. But what's different?
Kaitlyn is determined to keep it a platonic trip to avoid workplace rumor and scandal when she returns. Resisting Aric, however, is harder than ever once they're alone. He's always been drop-dead handsome and buff, but now that they're out of a corporate environment he's showing her another side of him. The only question is, which one is the real him, and will that change her mind when it comes to revealing the secret she's carrying?