FREE Right NOW!! PlayShifters – 6 Book Paranormal Billionaire Romance Box Set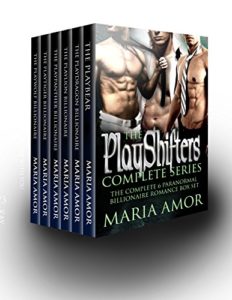 Maria Amor has a treat for you today, readerland! A six book set that will keep you busy all weekend. You can get it here or read on for more…
"The only thing better than a billionaire is a billionaire that can shape-shift!"
Get the complete PlayShifters set in one incredible box set!
Maria Amor's bestselling series is now available as a bundle. Get all SIX books for one low price! (Every book available separately for $3.99!)
Follow the epic adventures and romances of various playboy shape-shifters who are destined to find a mate. In some cases, whether they like it or not!
If you are a fan of WereBears, WereWolves, WereLions, WereTigers, WerePanther or dragon shifters. This package should have something for all paranormal romance fans!
The SIX books included in this bundle are:
The PlayBear Billionaire
Playboy Bear Billionaire Alexander Oberon loves his carefree lifestyle and has never been interested in finding a real mate. However, when he feels he might have met a potential mate in curvy Daphne Jackson.
Can Daphne really be the one to tame this PlayBear Billionaire? Or is a bear like him impossible to tame?
The PlayDragon Billionaire 
The time has come for Billionaire Dragon shifter Bran Garret to shed his playboy lifestyle and find a mate. Now he has chosen the young and beautiful Seraphina he is ready to produce an heir. However, he is soon going to realize this is not going to be as easy as he thinks!
The PlayLion Billionaire 
When WereLion & Billionaire CEO Robert attempted to seduce Olivia Price he was expecting another easy lay but he was taken aback by how different she was from other women. For the first time ever, Robert thinks he may have finally found a woman who could tame his PlayLion ways. Has the Lion finally met his Lioness?
The PlayWolf Billionaire 
Billlonaire WereWolf Victor has just been told he needs an heir if he is to keep his access to the family fortune. Without an immediate mate, Victor decides to hire young Astrid to pretend to be his mate and to have his baby for a substantial pay off, but things begin to get more romantic than either expected..
The PlayTiger Billionaire 
Playboy WereTiger Billionaire Nick has realized that life as a shifter can be dangerous and he needs an heir to pass his fortune on to if the worst was to happen. So he hired a surrogate mother called Cynthia to produce a child for him and Cynthia was about to find out just how dangerous the tiger life really was..
The PlayPanther Billionaire 
The playboy lifestyle of Panther shifter Tobias is about to come back and haunt him. His latest conquest Sylvia claims to be pregnant with his baby and his father tells him that he must now make this woman his mate or else face being cut off from the family fortune.
DO NOT MISS THIS OFFER WHILE IT STILL LASTS! SCROLL UP AND START READING NOW!